Well hello again!
No, this
#CheesyChicago
thing is totally
not going away
. It's real you guys, and its
TREMENDOUS
! We can barely contain our excitement around here.
Woohoo!
Some of you remarkable and fearless gals have already expressed interest in joining us for our cheesy blogger "conference" (aka pizza and beer fest) in Chicago (described
HERE
). Because you're
super wonderful
and
wicked cool
.
Some others want to come, but have pesky commitments like their children's birthdays and weddings and graduations and
some such nonsense
.
But for those of you who are seriously considering tagging along for this
KICK ASS
retreat, we've determined that
airlines are assholes
and flights cost a lot of money.
Also, and more importantly, we've come to realize how much the opportunity for this trip means to some of us who really, really, really, really NEED A BREAK. Not to mention how
liberating/hilarious
it is to meet up with other cheeky bloggers like us.
This trip has become a motivation for bloggers everywhere to
indulge in something FUN for once
.
So, inspired by
Miss LACE's post
, here is what we're trying to do:
GOAL:
To make it easier for y'all to join us! And to support blogger gals all over North America in their dream to break free from the confines of everyday life and
TAKE ON CHICAGO
!
First,
we've secured a deal for our Friday dinner in Chi Town. Our Chicago Deep Dish Pizza at
Uno Due
will
only cost $18 per person
, with taxes and tip INCLUDED. We'll get unlimited soda and salad, deep dish pizzas, and
CHEESECAKE
desert. Hee yaw! For an $15 extra per person, we can get beer and wine.
BEER AND WINE, people
.
Second
, we've designed all this friggin WICKED swag in our
Cheesy Blogger Store
. If you can't make it to our amazing adventure, consider buying yourself a gift to:
a)
remind you how you simply
must
partake next time!; and,
b)
provide a
little boost
for others who might not be able to afford it. All the proceeds will be pooled to support hotel costs.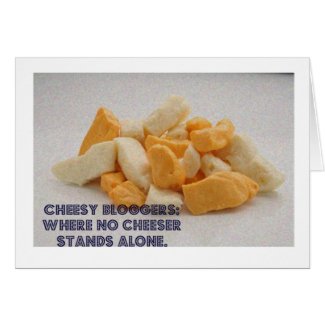 Say Cheese!
by
CheesyBloggers
See other
Cheesy Cards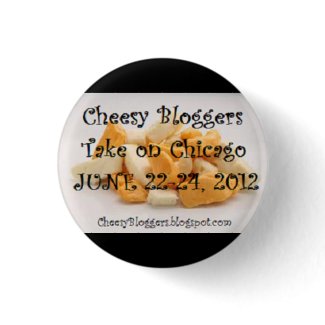 Cheesy Blogger Pin
by
CheesyBloggers
See more
Cheesybloggers Buttons
Cheesy Blogger Gals
by
CheesyBloggers
View other
Cheesybloggers Mugs
And by the way, if you commit to our trip now, this week, before Saturday, Miss Sarcasm claims she will
BUY YOU
one of these
REMARKABLE
tshirts. Seriously. It's like a
FREE GIFT
or something. She's generous, yo. (I mean, there's probably a limit or something, maybe the first 5 people, but still... she's at least a
little
generous.)
We're also checking into some sponsors, and whatever else we can get our hands on to make this whole thing a bit more
affordable
. Because it's more than just a trip - it's an
OPPORTUNITY
.